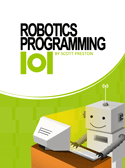 I have self published my first book Robotics Programming 101.  For this book I used CreateSpace for the soft cover and Kindle Direct Publishing for the Kindle version.
All in all it was a good experience. I had more issues with formatting than I did writing the actual code and copy for the book. I was able to hire an editor and illustrator on oDesk to help with editing and cover art.
Now hopefully I can just sell a few issues to pay for the production cost!